Curtains provides the glamour to any room and made of various materials that are adjustable which can be adapted to fit the window. Then this a best curtain store which provides modern curtains at doorstep if you're searching for a curtain shops Dubai then you have came at right place! We have enormous and fantastic collection of best curtains in Dubai, Sharjah, Abu Dhabi & all over UAE that give a beautiful look to your space and also provides you a remarkable standard Dubai curtains and blinds, sofa upholstery in Dubai.
Reputable Curtain Shops Near Me | Window Curtains and Blinds Dubai
The best thing about our decor products is that they are largely offered at discount prices with us. For example, you can purchase the beautiful and elegant valance & water proof curtains for your bathroom or kitchen windows at a whopping up to 25 percent discount.
If you want to add some warmth to your space in winter, then you can purchase the insulated curtains from our collection of curtains Dubai.
All these curtains come in different sizes, colors and patterns. You will find a pattern or color that suits your needs and taste easily with us.
Window Curtains Dubai is a store where you can book a free consultation to find the finest quality made to measure curtains in Dubai at best price. Our curtains are available in a wide range of styles and colors to attract people to your place. Select from a variety of curtains at Window Fashion and start living a stylish and comfortable life whether you're in Dubai marina or in Dubai satwa.
We're Top Rated Curtains Dubai Shop 2022 :-
If you're looking for a top rated No.1 curtain shop in Dubai, look no further than the Window Fashion curtains Dubai shop. This shop has been rated as one of the best shops in Dubai for curtains, and it's easy to see why. The shop offers a wide selection of curtains, blinds, and shutters to choose from, and the quality is impeccable. The staff is also extremely helpful and knowledgeable, so you can be sure to find the perfect curtains for your home.
Dubai Curtains: Luxury Curtains with Modern Designs :-
We give a wide range of luxury curtains with modern designs. Our shop is awarded as best curtain shops in Deira Dubai offers a different types of curtains so that you can choose your curtains made to your specific needs.
Blackout Curtains :-
If you're looking to block out light and get a good night's sleep, custom made blackout curtains are the way to go. Blackout curtains are thick, heavy curtains that are usually lined with a fabric that helps block out light. If you live in Downtown Dubai and have trouble sleeping because of the streetlights, or if you work in nights and need to sleep during the day, blackout curtains Dubai for your windows can be a lifesaver.
Roller Blinds :- Roller blinds are a type of best window treatment that can be used in both residential and commercial buildings. They are made from a variety of materials, including fabric, vinyl, and aluminum, and can be operated manually or with motorized controls. Roller blinds are a popular choice for both privacy and light control, and can be customized to fit any size or shape window.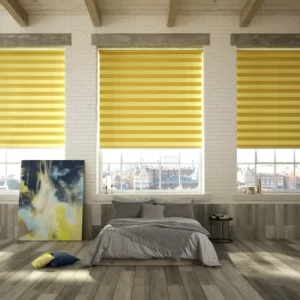 Roman Blinds :- Roman blinds are a type of window covering that uses fabric panels. When choosing Roman blinds, it's important to consider the fabric weight and light filtering properties. Heavier curtains fabrics will provide more privacy and light control, while lighter fabrics will allow more amount of natural light into the room.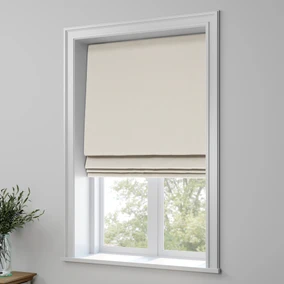 Linen Curtains :- Linen curtains, in particular, offer a number of benefits for your home. it is a natural material that's both durable and breathable.
It also have a bit of weight to them, which helps them hang nicely and drape elegantly. As because they're not made from synthetic materials, they're less likely to attract dust and other allergens.
Motorized Curtains :- Motorized curtains can be a great addition to any home. They offer many benefits over traditional curtains, including ease of use and added security. It can be controlled with a remote control, making them very convenient to use. They can also be programmed to open and close at specific times, which can add an extra layer of security to your home.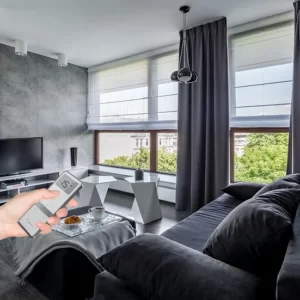 Things to consider in choosing best blinds & curtains for your windows ?
There are a few things to consider when choosing the best blinds & curtains Dubai for your windows. First, you need to decide what style you want. There are many different styles of blinds & curtains, so take some time to research online and offline through different options before making a decision. Second, you need to consider the material. Blinds & curtains are available in a variety of materials, so choose one that will best suit your needs. Finally, you need to think about the budget. Blinds & curtains can range in price, so be sure to set a budget and then shop for curtains accordingly.
Looking For the Best Curtain Shops Near Me ?
If you are looking for a premium quality curtains for your room at a best price, then you have came at right place. At our store, we offer a wide range of beautiful curtains in Dubai that are made from high quality materials and are available at very reasonable prices. Whether you are looking to buy high-quality curtains and blinds for your living room, bedroom or any other room in your house, we are a reliable supplier for curtains & are sure that you will find something that meets your needs and budget too. So, why not to come and take a look to choose the best one today ?
Contact us and we'll book a free consultation for you at your doorstep we're offering free installation service with full customer satisfaction guarantee. Take a look at our services just call us now @ 0562622268 we've got all you covered in regards with best quality curtains in UAE at an affordable price according to your needs.
Frequently Asked Questions :-
Why are curtains expensive ?
Customized curtains are expensive because they are made of high-quality materials and require a lot of craftsmanship to create. The best crafted curtains are made of luxurious fabrics like silk or velvet, and they often have intricate designs that make them stand out. You can buy curtains online in UAE or order custom-made curtains that fit your specific windows, which adds to the cost. Cheaper curtains on online shop are also available online but if you prefer quality over quantity then that may add costs obviously and also cheap curtains give you one time while a quality one gives you a life long benefits in a long run.
Why blinds and curtains are important ?
It play an important role in the overall look and feel of a room. They can add color, pattern, and texture, and create a focal point or frame for a window. Curtains can also help to block out light, provide privacy, and reduce noise. When choosing blackout curtains and blinds in Dubai, it is important to consider the style of the room, the type of window, and the amount of light and privacy you want.
Which Curtain Should I Install To Avoid The Light ?
There are a few things to consider when deciding curtain installation to avoid the light. The first is the type of window you have. If you have a standard window, you can block out the light with any type of curtain online. If you have a skylight, however, you will need to use a special blackout curtain designed specifically for skylights. The second thing to consider is the amount of light you want to block out. If you only want to reduce the amount of light coming in, a lighter-weight curtain may be the right curtain. However, if you want to completely block out the light, a heavy weight curtain will be necessary. Finally, consider the color of the curtain. A dark color will do a better job of blocking out the light than a lighter color.
Should Curtain Touch The Floor ?
There is no definitive answer to this question, as it depends on personal preference and the specific style of the curtain. Some people prefer curtains that just barely touch the floor, while others like them to pool on the floor for a more dramatic look. Ultimately, it is up to you to decide what looks best in your space.